Extreme C Combat Vitamin C Serum
$

198.00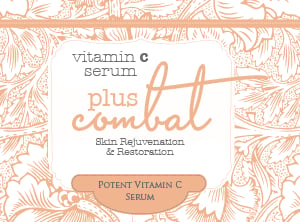 Skin Restoration and DNA Repair Serum
Combat uses Zinc Finger Technology™ (ZFT) to repair DNA damage and assist in the production of proteins and antioxidants within the cell. SRGF-7™ is a patented combination of amino acids and key co-factors that improve wound healing, lighten pigmentation, reduce visible capillaries, and stimulate collagen and elastin production through a revolutionary process. This amazing serum should be used by everyone!
Benefits assist with:
Repair DNA damage and
Rebuild collagen
Provide sun protection
Pigment control and normalization
Heal 'broken' capillaries
Prevent scarring
Improve skin health
Skin Types and Conditions
For all skin types.
Directions
Shake bottle. Apply 4-8 drops in combination with an Active 'A' serum or in combination with Age Defining. May also be applied to cleansed skin before application of Facial Infusion provided by your Skin Therapist.
*Product may darken after being opened due to the form of Vitamin C. This does not affect its efficacy.